Event details
Sunday | February 16, 2020 to Sunday | March 8, 2020
All Day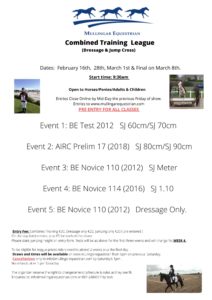 ntry Fee: Combined Training €30, Dressage only €20, Jumping only €20 ( pre entered )
On the day (late) entries: plus €5 for each of the above
Please state jumping height on entry form. Tests will be as above for the first three weeks and will change for WEEK 4.
To be eligible for league prizes riders need to attend 2 weeks plus the final day .
Draws and times will be available on www.mullingarequestrian from 6pm on previous  Saturday.
Cancellations only to info@mullingarequestrian.com by Saturday's 1pm .
No refunds after 1 pm Saturday
The organizer reserve the right to change/amend schedule & rules as they see fit.
Enquiries to: info@mullingarequestrian.com or 087-2488017 by text.