Mullingar Equestrian SJI  Show jumping Training –
Saturday's & Wednesday's
Saturday  17th & 24th  and  May 1st, 8th, 15th, 22nd & 29th 
Wednesday League – April 21st & 28th + May 5th, 12th, 19th & 26th.
Horses only in April
Scheduled;
80cm
90cm
Metre
1.10
1.20
1.30
1.35
All entries are through SJI Live.
Entries Close Fridays at 4pm & Wednesdays @ 5pm, prior each show day.
All COVID 19 Protocols MUST be adhered to.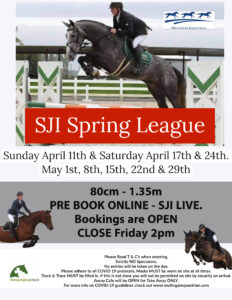 EHV-1  Protocols
ONLY RIDERS & NECESSARY PERSONNEL SHOULD TRAVEL TO THE SCHOOLING SESSION .
IF YOU HAVE BEEN OUT OF THE COUNTRY IN THE PREVIOUS 14 DAYS OR ARE FEELING IN ANY WAY UNWELL PLEASE DO NOT AVAIL OF THESE SCHOOLING SLOTS.
ALL RIDERS COMING TO THE CENTRE WILL BE ASKED TO CONFIRM THAT THEY AND THEIR STAFF HAVE READ THE EQUESTRIAN VENUES COVID 19 PROTOCOLS AND TO CO-OPERATE FULLY WITH THE COVID 19 COMPLIANCE OFFICER ON SITE. 
ATTENDEES SHOULD BRING THEIR OWN SUPPLY OF ANTI COVID 19 DISINFECTANT MATERIALS FOR THEIR PERSONAL USE. 
REGULAR HAND WASHING & SOCIAL DISTANCING ARE ESSENTIAL.
PLEASE – NO DOGS
Click on image below to review Mullingar EC Covid Protocols